BOWERS & WILKINS 805 D4 STAND-MOUNT SPEAKER (EACH) (SHOWN WITH OPTIONAL STANDS)

Today we're going to be breaking down the brand new Bowers & Wilkins 805 D4 Bookshelf Speakers. We'll be looking at some of the specs and features of this awesome new product, which one of our fellow employees at Audiolab referred to as "the bugatti of bookshelf speakers."

Little Diamond

The 805 D4 Stand-Mount Loudspeaker is the most compact model in the 800 Series Diamond range. 805 D4 might be smaller than its floorstanding siblings, but it is no light weight: its beautifully constructed Reverse-Wrap Cabinet and 6 and a half Continuum™ mid-bass cone give it exceptional bass extension and scale for a relatively compact speaker.

Diamond Dome Tweeter

One of Bowers & Wilkins most significant accomplishments, the ultra-stiff, supremely accurate Diamond Dome Tweeter is the perfect combination of low mass, exceptional stiffness and outstanding accuracy. The Solid Body Tweeter-on-Top housing features an elongated form with a longer tube-loading system. The decoupled housing is milled from a single solid block of aluminum to better resist resonance.

Go Large

Why step up from 805 D4 to 804 D4? First, 804 D4 is a three-way speaker, with twin 6.5 and a half inch Aerofoil bass cones – and that has huge benefits to its power and scale. Second, as a three-way speaker, it includes a dedicated midrange cone, so voices and other details will sound more accurate.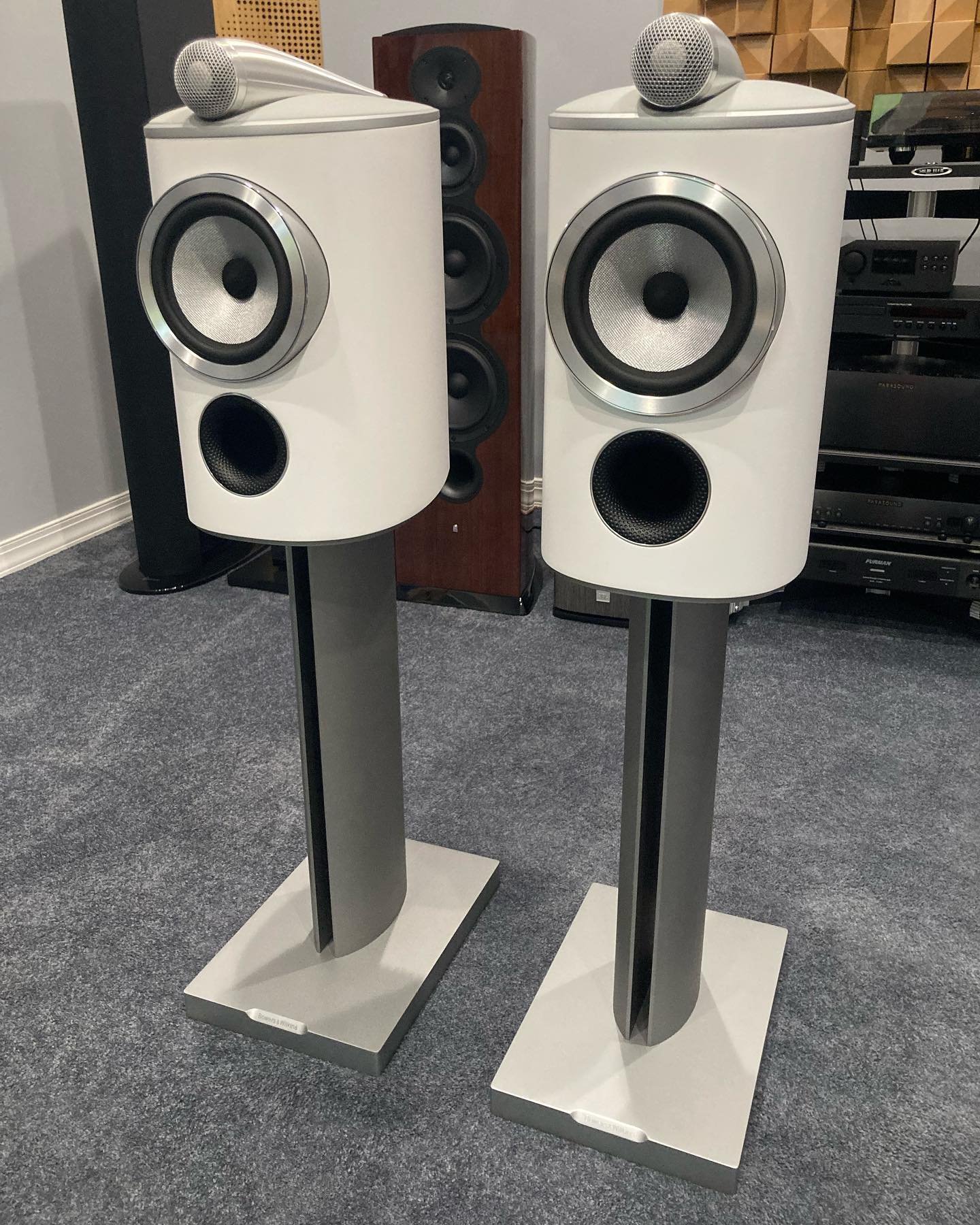 Features:

There are expansive technical features for the 805 D4. It is a two way vented box with the Diamond dome tweeter, Solid body Tweeter-on-Top, Continuum cone bass/mid, Matrix bracing, and Flowport.
The Frequency response is between 42 Hertz to 28 thousand Hertz. Sensitivity clocks in around 88 dBs with a Nominal impedance of 8 ohms. To pair with these speakers, Bowers & Wilkins recommends an amplifier that puts out between 50 Watts and 120 Watts.

Dimensions:

This speaker is 17 inches high, 9.5 inches wide, and 14.5 inches deep. It weighs 33 pounds, so it has got a good amount of heft for a bookshelf speaker. Just as hefty, are the matching floor stands that Bowers offers, which are available for purchase on Audiolab's website.

The 805 D4 Stand Mount Speaker is available in 4 finishes: Gloss Black, White, Satin Rosenut and Satin Walnut with 2 different grille finishes: Black & Grey. Available for purchase here.

As always, if you have any questions or inquiries you can chat with us on our website or call and speak with a customer service representative. Audiolab Stereo and Video Center carries the best speakers, receivers, and hifi audio equipment from Bluesound, Kanto, Focal, and other high-end brands, located right off Route 1 in Fairless Hills, PA. We have a beautiful showroom and offer in-home consultations for installations (COVID restrictions apply). Call us today at 215-297-8795.